I know I keep saying this, but the past few weeks have been rough! Work has been super stressful, and it's bleeding into my social life. I'm hoping that since today was the last day of the summer contest I was running, things at work will smooth out a bit. Fingers crossed, at least.
---
Yesterday was a really dramatic day anyway. Greg sent me a text at about 2:00 saying that his sister was taking his mom to the doctor because she was acting odd. She had been a little off the past few weeks, but I just chalked it up to her being 60-something and life just catching up to her. Yesterday she was being unresponsive so off they went to the doctor who promptly sent them to the emergency room.
It looks like she had a stroke, and she had it a few weeks ago. She doesn't have any paralysis or speech issues which is why no one noticed at first. However, she is having trouble thinking. For instance, last night when Greg and I went to see her in the ER, she knew who we both were. She talked to us just like she has every day I've known her. But when the nurse asked her if she could name any of us, she couldn't. You could TELL she knew, but just couldn't spit it out. It made me think of when someone asks you a question and you respond "I could have told you til you asked me..." The nurses said to be encouraged by that, but it was still hard to watch her struggle.
We stayed at the hospital until she was settled in her room for the night. She went for a CT scan and an MRI this morning. They showed that she had a blockage in her brain that might lead to mini-strokes. I'm not sure if they can remove it and when they plan to do so if possible. I do know they are not letting her go home until they figure out exactly what happened which will probably be another 2-3 days.
Needless to say, Greg's freaking out and upset. We're hoping that she is able to move back into a calm household with people who are taking care of her and supporting her. Greg very well may lose it if otherwise.
---
I'm looking forward to August. I have a few things coming up that should be really exciting. This weekend I'm going to a Group Leader's Gathering at the church. I'm feeling called to lead a bible study, so our groups pastor asked me to come to the gathering. It should be fun and informative. Then next week I am going to the
Global Leadership Summit
.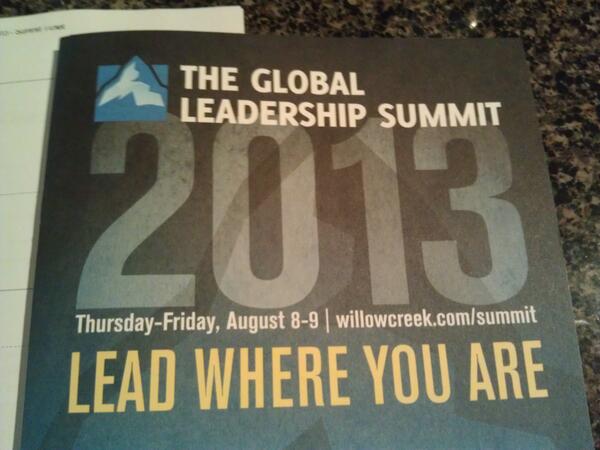 Can you tell I'm being called to lead?
The Summit is actually in Nashville, but my church is hosting as a satellite. I'm excited. I looked at the list of speakers, and I think I'll really learn a lot that I can use in multiple areas of my life. Plus I'm taking 2 days off from work which is a little exciting in itself.
---
I hope you had a great July and your August is AWESOME!